Girl Scouts
---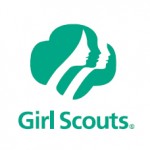 In 2012, Girl Scouts launched a national initiative ToGetHerThere campaign — a bold step to rally communities, states and the nation around a single cause — to remove barriers that inhibit girls from reaching their full potential, and, in a single generation, enable these girls, as women, to become full partners in leadership positions in every sector of our community.
Girl Scout membership is open to girls in grades K-12. Girls join for fun, friendship and well-known activities like cookies, camping, and crafts. However, today's Girl Scouts are doing so much more….they are programming robots, learning about financial literacy, developing healthy living habits and participating in community services projects that make our communities stronger. In partnership with committed adults, girls develop qualities that will serve them throughout their lives — like strong values, social conscience and a conviction about their own self-worth.
Ss. Peter and Paul Catholic School offers Girl Scout programs for all grades.