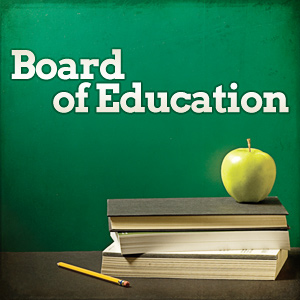 The Ss. Peter and Paul School Board is an active organization that advises the principal and the pastor on school administrative matters and meets monthly.
Committees within this organization are: Executive, Education, Athletic, Finance, Planning, Development and Public Relations, Elections.
The board consists of 13 members. If a non-board member wishes to address the board with an issue or concern, they must contact the principal or the school board chairperson in writing before the meeting and be approved to present their ideas at the school board meeting.
Ss. Peter and Paul School Board of Education
Peg Bodinet - Principal - ex-officio
(O) 618-344-5450
pbodinet@sspeter-paulschool.org
Father John P. Beveridge - ex-officio
618-345-4343, Ext. 300
Frjohn@saintspeter-paul.org
Ryan Klaas -President (2014)
310 S Aurora Street Collinsville IL 62234
(C) 618-806-3544
ryanklaas@gmail.com
Lily (7)
Cecilia (PK3)
Amy Smith (2012)
246 Keeneland Court Collinsville IL 62234
(H) 618-345-3552
(C) 618-920-2651
afsmith@ascensionhealth.org
Mindy (7)
Tyler (2)
Mary Lowe -
Vice President(2014)
214 Branch St
Collinsville, IL 62234
(C) 618-343-0118
Virginia (4)
David Lowe III (7)
Sarah Mossa (2016)
124 N Chestnut Street Collinsville IL 62234
(H) 618-420-9728
(C) 618-420-9728
sarah.mossa@swic.edu
Savannah (7)
Natalia (4)

Susan Eade -
Secretary (2012)
6 Hunter's Ridge Collinsville IL 62234
(H) 618-345-0447
(C) 618-972-1395
seade@cusd.kahoks.org
Hannah (6)
Carter (2)

Kelly Gaither (2013)
1874 Robin Mills Court Maryville IL 62062
(H) 618-345-9396
(C) 618-978-6333
kelleyg8r@hotmail.com
Kai (5)
Kelea (2)

Selena Kleppin (2017)
1213 St. Clair Ave
Collinsville, IL 62234
(H) 618-345-9729
Hannah (2)

Brett Swip (2015)
102 Timberwood Lane Collinsville IL 62234
(H) 618-514-0290
(C) 618-514-0290
bswip@hotmail.com
Will (4)
JT (1)

Bryan Winterbottom - Athletic Director
(W) 618-344-5450
(C) 618-604-0210

 Meeting Minutes
---