Ss. Peter and Paul Catholic Preschool – Collinsville, Illinois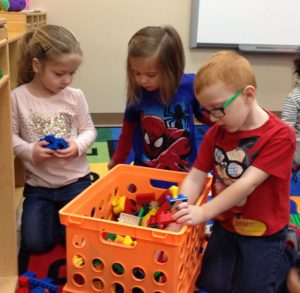 Four-year-old Preschool Classes
---
We start out every day by updating the calendar and singing a song as a class using our Smart Board. Other weekly activities include:
Reading
Every week we focus on one letter. This week we're focused on the letter "S". Our activities include:
Introduction of the letter puppet, Ms. Super Sock
Singing Ms. Super Sock's song
Reading the Alphatales book "Seal's Silly Sandwich"
Making the "S" page for our ABC book by gluing construction paper to make a squirrel and tracing the word "Squirrel"

Each child gets to take home their ABC Book at the end of the year!

Reading "The Sun" and finger paints our own sun by mixing yellow and orange paints
Learning about Snakes through exploration of snake picture and making our own snakes out of paper towel rolls
Reading "Starfish" and water coloring a starfish
Reading "Sammy the Seal" and coloring, cutting out and gluing a seal
Creating our letter "S" book which contains coloring, printing, cutting, and gluing activities focused around the sound of "S"
Show and Tell

Each week children are invited to bring an object that starts with the letter of the week to share with the class.
Math
Our activities include:
Making AB/ABC patterns using Skittles
Sorting seashells by size and shape
Many of our center activities (listed below)
Centers
Center activities allow our students to learn in small groups. Activities include:
Building with Legos
Playing with Play-Dough
Putting together puzzles
Playing with geoboards
Creating patterns with pattern blocks
Building with building blocks
Playing with sand and water
Dramatic play
Religion
We learn about our Catholic faith through the Seeds program, which includes a weekly gospel reading and activities. We also use the What the Church Teaches and Believes book.
Extra-Curricular Classes
Each of the classes attend gym, music, and computer classes once a week.
---
Map and Directions
---
Ss. Peter and Paul Catholic Preschool
210 N. Morrison Ave.
Collinsville, IL 62234
Phone (618) 344-5450 Fax (618) 344-5536

---